Mr. Joseph still can not believe his eyes after receiving a letter from the administration of the Belgian region of West Flanders.
Mr. Joseph has a second home in Knokke-Heist, a posh seaside town on the Belgian coast. Every year, he receives a form from the Western Flanders Directors in order to specify that it is his second home, and that form was sent to him on October 16th at his main residence in Tel Aviv.
Until now, Mr. Joseph thought he lived in Israel. But when he received the form, he had the unpleasant surprise to discover that for the Flemish administration, Tel Aviv is in ... "Palestine."
[...]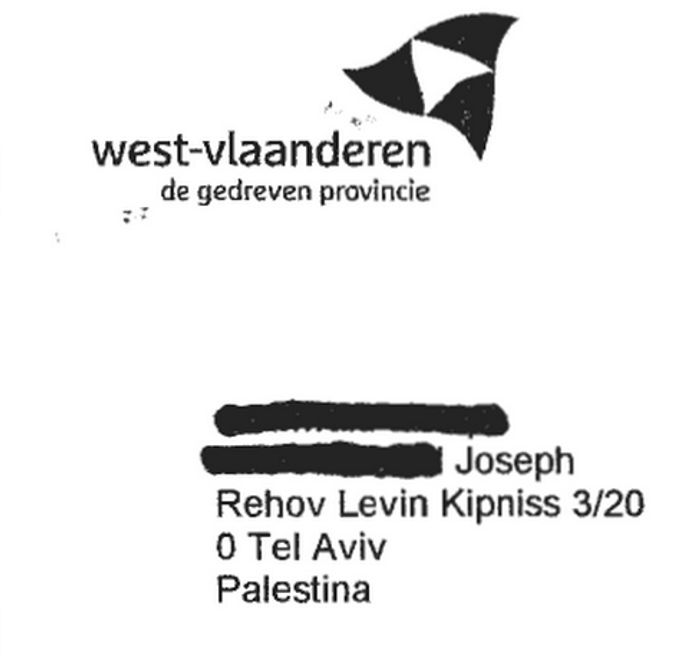 "Administrative form of West Flanders in which Tel Aviv is said to be in "Palestine""
On Sunday afternoon
i24news
contacted Belgian ambassador, John Cornet d'Elzius, in Tel Aviv (Israel ...) for his reaction on the case. When contacted, d'Elzius appeared very embarrassed and told
i24news
that he was aware of Mr. Joseph's case.
"I immediately informed my authorities to make a correction to the relevant services" said the diplomat, who was not able to give any further explanation about the incident.
While the ambassador said it could be "either a mistake or an error in quotes" and suggested that
this "error" may have been intentional
, he told
i24news
that "in all cases the necessary measure will be made to rectify it."
Read more.