By the Editorial Board of the New York Times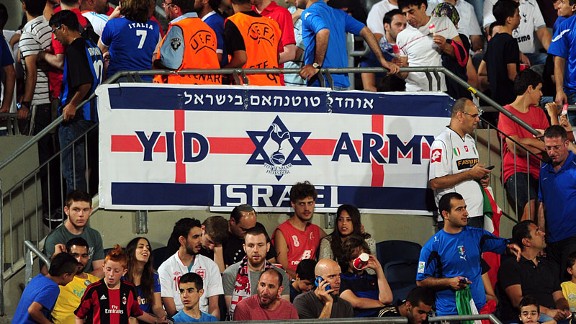 Football teams with fans who identify with Jews,
such as Tottenham Hotspur (shown above), have
faced anti-Semitism during matches.
An ugly vein of soccer fan excess — the chanting of anti-Semitic slurs — recently disgraced a Dutch soccer game, prompting officials of the home team, Utrecht, to apologize for shocking outcries from the stands like "Hamas, Hamas, Jews to the gas" and "Jews burn the best!"
Anyone who has been to a European match knows how badly things can get out of hand when pushed by brutish fans in the stands. But the Utrecht outrage in a game against Ajax Amsterdam laid bare what soccer supporters say is an epidemic of anti-Semitic outbursts.
The problem is getting worse, according to Kick It Out, a British watchdog organization, which said in March that there were more than 30 instances of anti-Semitic slurs reported in the first half of the season, surpassing last year, with chants of "Yids" and "Kill the Jews" heard at games attended by Jewish fans.
It is absurd to claim, as some soccer apologists do, that this is no more than the usual rough give-and-take of pumped-up, and sometimes liquored-up, spectators. The history of anti-Semitism in Europe is too deep and too raw not to see the problem for the hate-mongering it is. Even neo-Nazi salutes have been brandished at games by fans and an occasional player.
In the 1980s, anti-Semitism in the stadium was mainly stirred by neo-Nazis, but lately there appears to be a combination of factors, according to officials at the Simon Wiesenthal Center, a human rights organization. "It's a new alliance between neo-Nazis and jihadists," Shimon Samuels, the center's international relations director,
told
The Washington Post.
European clubs that campaigned for years to rein in racism claim some progress. Officials must be no less aggressive in stopping the anti-Jewish slurs from being heard around the playing field.
As alarming as the rise in complaints has been, it might also show greater awareness of the problem, according to Roisin Wood, director of Kick It Out. The increase "suggests people are more willing and confident to come forward" to report hate speech, she
wrote
in The Guardian.
But she emphasized that the game has a stubborn element of discrimination involving abusive and biased attitudes, and it can bring out deep and even noxious passions among its fans. That, unfortunately, seems to be the case as anti-Semitism mars the cheering.